Simple Ways To Keep Your Jewelry Beautiful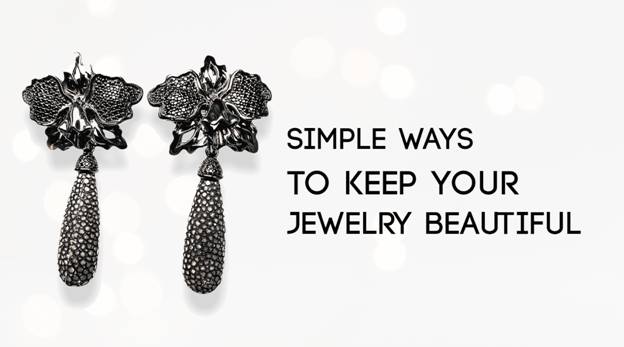 Jewelry has excellent value, and sometimes it is more than just dollars. It can hold great sentimental value, and therefore you need to maintain its beauty. Keeping your fine jewelry in a state of art condition can be a little confusing. Maybe it is because you never really wondered about it but taking care of your luxurious pieces is a must to keep them shining for years. Many think they can store their highest quality jewelry and expect it to maintain its beauty for long years, but that is simply wrong. Even the best quality jewelry needs special care and attention. So, whether you have common costume pieces or a unique, extensive wardrobe of fine jewelry, you should know how to take care of your treasures! 
Today, Boredom Left offers you a unique simple guide and excellent tips to take care of your jewelry. Keep these basic and easy instructions in your mind, and your jewelry will always look as good as new. So follow these steps, and your jewelry shall never stop shining! 
Where should you store your jewelry: 
Store it separately, for example, in a case or small box, so that your fine pieces don't tangle or scratch one another. Also, always keep your jewelry away from sunlight and in a dry space! High exposure to sunlight may alter its color and ruin its sparkle. 
Here are some clever and easy jewelry storage ideas: 
Boredom Left Jewelry Original Packaging:
The best place to store your luxury jewelry and keep it safe! Our original packaging classy and practical design is meant to keep your jewelry clean and away from direct sunlight. It is a very functional packaging and a life-changer, especially during your travels! You won't have to at all about keeping your pieces well organized, safe, and ready to wear in perfect condition.
Jewelry tree for necklaces and earrings
Separate cloth pouches for precious jewelry
Jewelry cabinets for your fine pieces
Small jewelry cases for your most valuable items, rings, bracelets
Tarnish-resistant jewelry bags for silver pieces
"Courtesy of Boredom Left Jewelry"
Taking off your jewelry: 
Always remember to remove your jewelry when needed! Your fine pieces are delicate no matter the material and need special attention. So, remember to take off your jewelry whenever you are working with your hands or engaging in chemicals or activities that could scratch, knock, or damage it. 
Here are a few examples of when you must take off your jewelry: 
Swimming
Cleaning (House, car, shop…) 
Gardening
Playing sports
Working in labs, hospitals, construction…  
Bracelets, necklaces, rings… Please put it on last and take it off first! 
This is one of the most important rules to keep your jewelry safe! Whenever you are getting ready, the last thing to put on is your jewelry. This routine keeps it away from direct exposure to perfumes and skincare products that might harm it badly. Lotions and hair sprayers will make your valuable jewelry look dirty too. Also, whenever you get home, immediately remove your jewelry, and store it in your small box/case. That way, you can wash off your makeup or take a shower without losing it down the drain. 
Cleaning your fancy jewelry: 
Gently clean your fancy jewelry with a soft fabric to maximize the shine. Also, if you need a special solvent to clean it, that is not the case. Actually, you might be better off those. So just use some warm soapy water and gently clean it routinely to keep it sparkling!  
Moreover, you need to know what you are working with. Knowing what material your jewelry is made of will help you learn specific best practices for cleaning without accidentally damaging it. 
There are a few specific things you need to know about pearls and how to maintain their elegance. One crucial thing is not to store them in a box with other pieces and not hang them. Just like all your jewelry, you need to store them separately and keep them lying flat. This applies to pearls or any other piece made of beads or stones strung together. Lay it flat to avoid the silk thread from stretching! 
Don't remove your jewelry over the sink: 
Mishaps and accidents happen all the time. It is very easy for jewelry to slip right down the drain when removing it. So, if you do not want to lose any unique item or a loved one's gift, stay away from sinks and drains when removing your jewelry! 
Keeping Your Stingray Leather Jewelry Clean & Beautiful:
Stingray skin is inherently durable, multi-patterned, and multi-colored. One of the most durable exotic leathers on the market is stingray leather. It is also naturally water-resistant and does not stain easily. This combination of traits makes stingray skin ideal for jewelry.
However, our unique stingray leather pieces and stunning collections will look much sexier and will shine much better if you keep them in mint condition! It is not difficult, and it does not require any special cleaners, the important thing is that you do it regularly!
Just remember to use a gentle fabric with warm water. Pay close attention when dealing with precious stones and make sure you leave them to air dry first before you wear them or store them in Boredom Left Jewelry Original Packaging 😊
Gold jewelry cleaning: 
It won't take much time for gold jewelry to get dirty. Fingerprints and a daily build-up of dirt make it lose its shine. So, here are some amazing tips to get it shining once again easily: 
Add a few drops of soap to a lukewarm bowl of water. Avoid hot or ice-cold water! 
Soak the jewelry for ten minutes. 
Gently clean with an unused toothbrush.
Make sure to clean the whole piece while being extra careful when cleaning fragile parts. 
Rinse in clean water to remove soap residue. 
Dry gently with a cloth. 
Leave it on a cloth to air dry.
Gold is a very soft metal, so be as gentle as possible! 
Silver jewelry cleaning: 
Silver is subject to tarnishing, resulting in black jewelry. It is unavoidable, but it doesn't damage the metal and can be cleaned easily. 
The easiest way to clean silver items is to get a special cleaning solution. Just make sure that they have been designed for cleaning silver.
Also, there are household options to get your silver shining again. A bowl of warm water and a few drops of soap liquid will help remove tarnishing. Here is how: 
Soak the silver pieces in a bowl of warm water with a few drops of soap. 
Gently scrub the silver with a clean brush.
Rinse in clean, warm water.
Leave to air dry.
Diamond Cleaning
Oil deposits from fingers and general dust can quickly damage the diamond surface and affect a diamond's brilliance. 
Keeping your precious stones like Amethyst, Topaz, Sapphire, Emerald, Ruby in individual small plastic bags or a fabric-lined case will help reduce damage. These stones are sensitive, so be gentle! 
Clean your diamond regularly. Soak in warm water with soap. Gently brush with an unused toothbrush before drying with a soft lint-free cloth. Be extra careful with the stone's setting. Most importantly, avoid using bleaches! 
Check Your Pieces Regularly: 
As you frequently wear and remove jewelry, your pieces will get dirty and damaged. So, before you put on your earrings or a necklace, take a good look at the item so you can identify those pieces that need cleaning or repair.
Ask yourself the following questions:
is the clasp secure?
Are the stones set solidly in the piece? 
Is the item sparkling and beautiful? 
Are there scratches?  
 Once you pick the dirty/damaged pieces, you can decide whether you want to clean them yourself or take them to your trusted local jeweler for repair. 
Maintaining your jewelry's value and beauty: 
Those were the most important guidelines and tips for you to maintain your jewelry elegantly and sparkling. Caring for your jewelry is essential to maintaining its value and beauty. From diamond rings to necklaces and bracelets, every item looks better and lasts longer if you know how to take great care of it. Therefore, sue your judgment, take your time, put in some effort, and you'll keep your jewelry wardrobe looking as good as new! 
We hope that you found this interesting and helpful! Stay tuned for more amazing reads!